I am really excited to help reveal the cover for
FRAGILE REIGN (Mortal Enchantment #2)
by
Stacey O'Neale
! I loved the first two books The Shadow Prince (Novella) and Mortal Enchantment.These are fabulous fantasy/Paranormal YA reads. Check out the cover below, and let me know what you think in the comments. Then be sure to
enter the giveaway for a chance to win a $100 Amazon or B&N gift card!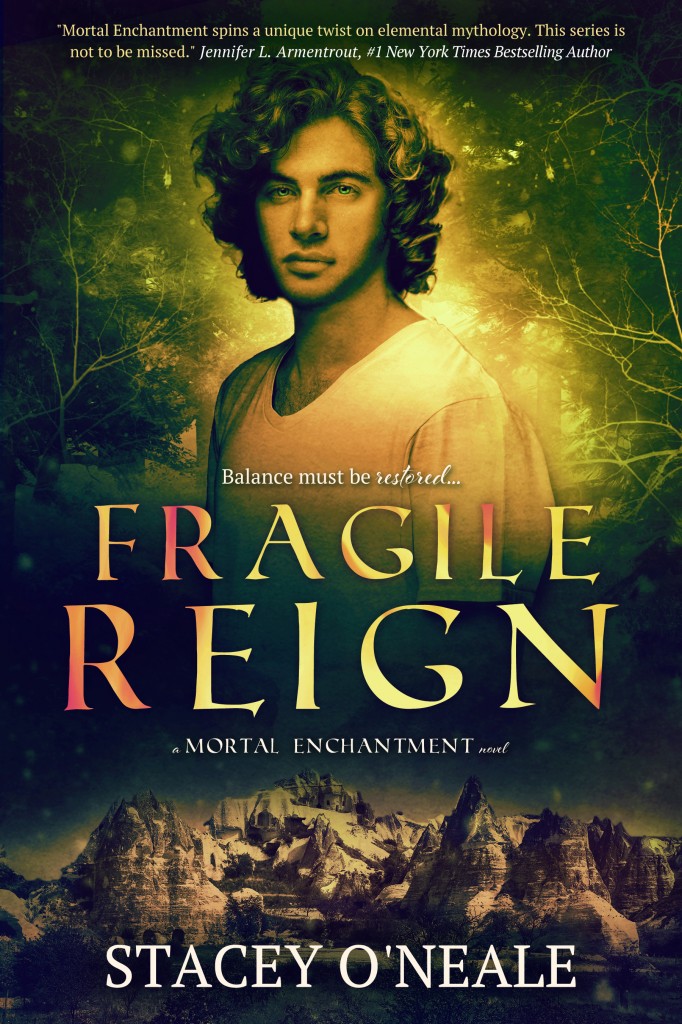 Details about the cover, from author Stacey O'Neale:
In case you're curious about the cover, the model represents Marcus. The background represents the woodland court and the caves at the bottom are where the members of the royal family live. I chose caves because the woodland court protects the forests of the world. I didn't think they would choose to cut down trees to make a castle, so the massive caves worked out nicely. If you zoom in, you can see where the doors and windows are cut out. The inside is very lavish. If you read FRAGILE REIGN, you'll learn all about it.
FRAGILE REIGN (Mortal Enchantment #2) by Stacey O'Neale | November 18, 2014
Book Description:
I
t's been a week since all hell broke loose… Rumors of King Taron's weakened powers have left the air court vulnerable. Kalin is desperate to awaken her akasha powers, except she doesn't know how. Tension within the court is at an all-time high. Pressure is mounting for her to ascend to the throne, but a halfling has never ruled over any court. To solidify her position, the council has advised her to marry Sebastian—a high ranking air elemental she's never met and her betrothed. Will Kalin sacrifice her relationship with Rowan to strengthen her court? Rowan and Marcus return to a fire court in turmoil. Liana's death has fueled the fire elementals' distrust against the air and woodland courts. The unbalanced elements have set off natural disasters all over the mortal world. Rowan takes the throne to restore balance, promising to unite the fire court. But not all elementals are happy with his leadership. Many are secretly loyal to Valac, which means Rowan needs to find allies for his cause. Can Rowan unify the court of fire before the elements destroy the world?
The prequel novella,
THE SHADOW PRINCE
, is currently free on Amazon, and you can also read
MORTAL ENCHANTMENT
for free if you have Kindle Unlimited.

About the Author
Stacey O'Neale lives in Annapolis, Maryland. When she's not writing, she spends her time fangirling over books, blogging, watching fantasy television shows, cheering for the Baltimore Ravens, and hanging out with her husband and daughter.
Her career in publishing started as a blogger-turned-publicist for two successful small publishers. Stacey writes young adult paranormal romance and adult science fiction romance. Her books always include swoon-worthy heroes, snarky heroines, and lots of kissing.
Stacey loves hearing from readers. Follow her on Twitter @StaceyONeale, look for her on Facebook, Pinterest, and GoodReads.
Giveaway
a Rafflecopter giveaway