Chasing Midnight

releases
January 12, 2016
Check out the book below, and be sure to enter the amazing giveaway.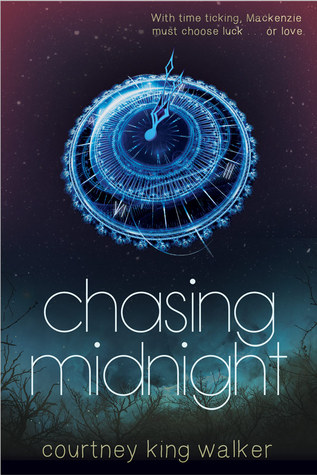 WISH LIST
The biggest, fanciest house on Sea View Drive.

Nike Flyknits.

A ski-jump nose.

My own car. A new BMW.

Be a total pro at the piano.

James Odera to like me. Be James Odera's girlfriend.

Get Spencer's lungs fixed.
Mackenzie Love dreams of being a "lucky one"—someone who has the perfect life. Someone who doesn't have to worry about money, a sick brother, or her high school status. So when a mysterious visitor offers to make all her wishes come true, Mackenzie jumps at the chance. But the royal lifestyle may cost more than Mackenzie is willing to pay in this modern twist on the classic Cinderella story.
Excerpt:
Suddenly, my ears buzz and go blank, blocking the noise around me, almost like my head has been plunged underwater. Cale looks at me sideways. I shake my head, trying to knock the silence free. "Is this what you wish for?" a voice booms in my head deep and smoky, every syllable alive like the air has been awakened from a deep sleep. I turn around, knowing that distinctive voice, that spicy aroma. "You," I say, staring straight into eyes the color of midnight, feeling myself already simmering in the scent of roasted hazelnuts. Bird Lady. Her Mohawk hair is as majestic as before, maybe even more like a jay's tuft now. With a long, black dress that bleeds into cobalt blue at her feet, she blends into the crowd like she's always been part of it. My eyes go straight to her bare neck, where her dark skin glimmers gold under the strobe lights above. Is she here to reclaim her lost charm? Before I have a chance to confess the whereabouts of her necklace, however, the room freezes with everyone in it—everyone except for Bird Lady and me. I scan left then right, wondering if we are the only two aware that the room has been placed on pause. Cale still holds his drink to his lips, a grin stuck on his face. Fritz is mid-action, in the middle of wiping off the counter, his fingers clamped around a cloth. The music has even stopped, along with the hum of voices and the clanking of silver on china. I wait for an explanation, wait for the world to start up again . . . for music to ignite from the grand piano tucked into the corner beneath the winding staircase, or for the murmur of conversations to begin again. But everything seems stuck. The glass cone buzzes in my hands, the only thing here that seems real. My mind is blank; for some reason I can't think of anything except the Bird Lady. I close my eyes, waiting for a cue . . . for something to click in my mind and tell me what to do next, other than remain here in a sea of paralyzed limbs. When I open my eyes again, Bird Lady is still staring at me. "What's happening?" I ask her, my voice carrying across the room to the other side then bouncing off the wall and back at me. "Look," she says, pointing at the crowd. "You'll see in a minute." I spin around and scan the faces, looking for something. She steps backward, as if giving me space. The glass cone slips from my hand and hits the counter as the piercing sound of glass bouncing off stone fills the room. I'm about to demand some kind of explanation, but my words die on my tongue the instant I recognize, even from this distance, the profile of a girl standing in the center of the crowd, at the center of attention. The girl . . . is me. A prettier version of me, but still, me. I rush past Bird Lady toward the crowd, but halt at the sound of her voice. "Don't get too close," she warns. "It's only a glimpse. She will vanish if you push it." "A glimpse . . . ," I repeat, wondering how I am seeing what I'm seeing. Seeing me. Yet there I am—wedged in between James and Brecke, a pink bubbly in my hand and what looks like a laugh ready to burst from my mouth. My nose is different—small and ski-jump perfect, my long, dark hair smoother and stick-straight, still resting slightly above my elbows like it is now. I'm wearing a black halter dress, the taffeta skirt reaching all the way to my toes, my shoulders bare. The whole group is there beside me and I am at the center, the look in my eyes one of belonging, of being adored. Of being a lucky one. "Is this what you want?" Bird Lady says again, her voice everywhere, somewhere in the air, floating around me. My breath is gone, my body is immobile, but my mind still spins. "I don't know," I answer, acutely aware of the sour feeling still twisting my stomach after my encounter with James and the lucky ones. "You have to know. Some time or other." Bird Lady glides even closer to me until her cinnamon scent starts to burn my eyes. "What will you give?" she asks. "What?" I ask, confused, tears from my burning eyes blurring my vision. "Nothing is free, my dear. What's your offer?" "I . . . I don't know," I say, my mind stuck in this fog. My eyes losing focus. My gaze falling back on the other me—the girl in the middle of the crowd—the girl who has everything. "It's your choice. You have until midnight to start the clock." "What clock?" "The necklace. Make your offer and put the charm around your neck, child. When you awake, it will have begun."
"Be careful what you wish for. . . . A modern Cinderella story that will charm its way into your heart and make you second-guess the grass you think is greener." — Jennifer Murgia, author of Forest of Whispers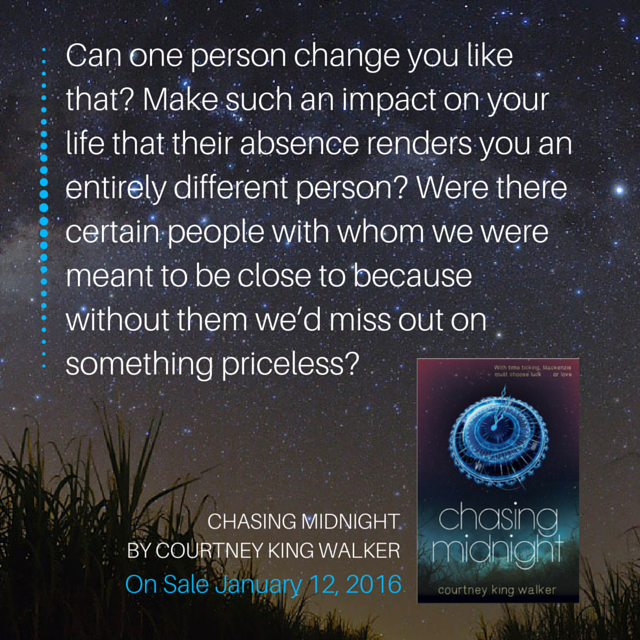 On Sale!
Looking for a romantic read? Grab Courtney King Walker's debut young adult novel,
ON THE FRINGE,
for just 0.99 cents! It's a YA ghost story, where your first embrace could be your last…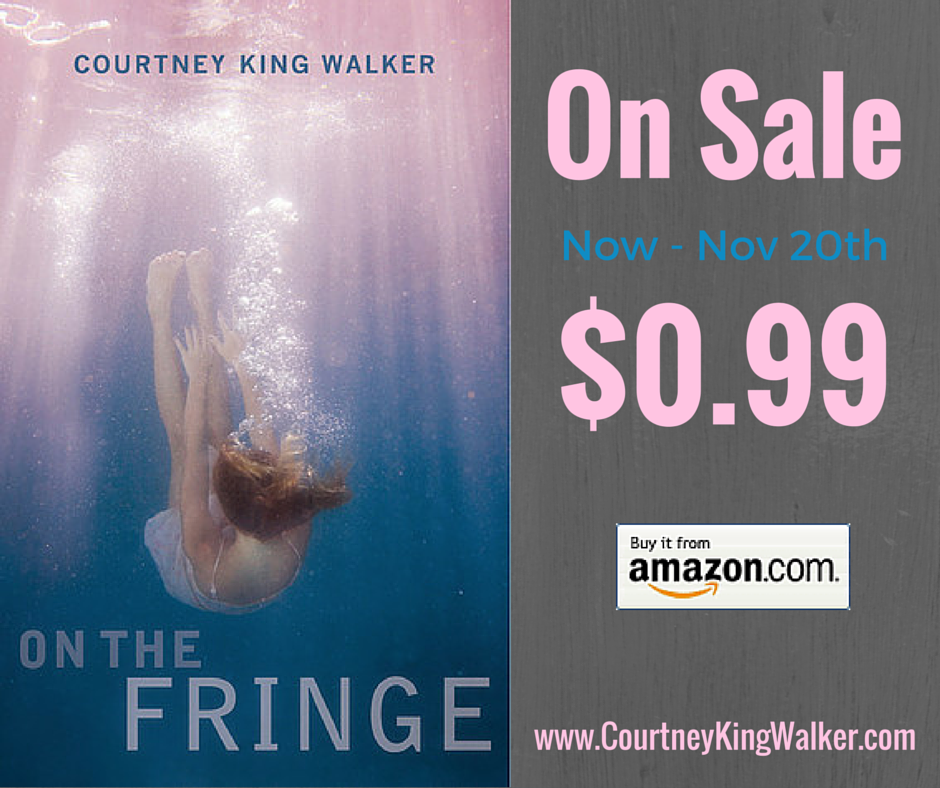 Grab your copy for just 0.99 cents on Amazon, today!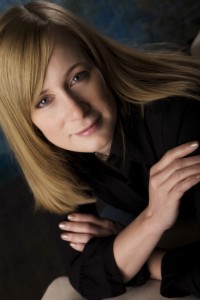 Courtney King Walker grew up in the San Francisco Bay Area building rocket ships and rafts out of cardboard, hoping to make it the moon or at least Niagara Falls. But a trip across the border to Tijuana was as exciting as it ever got, so she decided writing about adventure was the next best thing. She now lives in the Rocky Mountains with her husband and four children, and still dreams of flying to the moon. She is the author of the young adult novel,
ON THE FRINGE
, and middle grade novel
MOLLY PEPPER AND THE NIGHT TRAIN.
Her next YA novel,
CHASING MIDNIGHT,
will be published January 12, 2016 by Cedar Fort Publishing & Media.
Giveaway
Winner will receive a signed physical copy of CHASING MIDNIGHT and $10 gift card to Amazon or Barnes & Noble!